Shower Doors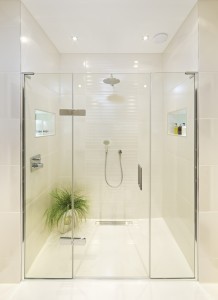 You want a custom bathroom that fits your needs and suits your taste. One of the most visually arresting ways to achieve this is with custom shower doors in Rancho Mirage. At Macklin Mirror & Glass we specialize in stunning shower doors that are made to order. From materials to dimensions and installation, you get every service right in one place.
We value your input. Our designers and fabricators can create a shower door to enhance and match your current style or bring to life a pre-existing design. With comprehensive shower door services, a friendly staff, and great prices, we create shower doors that make an impression.
Custom Shower Doors
We work with a wide variety of glass types and textures. This allows us to design custom shower doors exactly how you want them. Whether you're remodeling a home, or require on-site showers for your business, we have an array of styles and options that meet any need. We're skilled and experienced, fabricating shower doors in any style from slider doors to round and pivoting shower doors. We don't limit our focus though. We also design amazing tub enclosures and fully glass showers installed by our experienced and exacting technicians.
Styles Include:
Custom Tub Surrounds
Frameless Shower Doors
Smoked Glass
Beveled Glass
Colored Glass
Etched Glass
Shower Door Repair
We don't stop at custom work. If your shower has cracked or broken glass, we perform comprehensive shower door repair. Our shop can match your existing door. If you've ever wanted a style change, a broken shower door can provide the perfect opportunity. With so many styles, get the shower door you've been waiting for. Sometimes frame damage and other factors make repairs an impossibility. If this is the case, we also provide complete shower door replacement.
We take great pride in our work. When it comes to quality window replacement or shower doors, Rancho Mirage knows they can trust us from creation to installation. For shower doors in Rancho Mirage call (760) 574-3487 or Contact Us for the custom shower doors made to order.