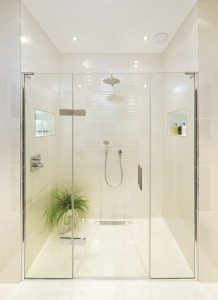 Shower Doors
You want a customized bathroom that suits your taste and fits your need. One of the best ways to accomplish this is with custom shower doors in La Quinta. Macklin Mirror & Glass creates custom ordered and designed shower doors. With your input we can create a shower door that matches your current aesthetics and style, or if you've got a design in mind already we can create it for you. We're your one stop solution for shower doors in La Quita, providing comprehensive and friendly service.
Custom Shower Doors
Working with a wide array of glass types, we can design the perfect custom shower doors for you. Whether you're a business owner requiring on-site showers or a remodeling home owner, we have a variety of options and styles to meet nearly any need. We're experienced and skilled at fabricating shower doors for any style from pivoting shower doors to round and slider doors. Our focus isn't limited though. We also create incredible tub enclosures and complete glass showers installed by our exacting and experienced technicians.
Styles Include:
Custom Tub Surrounds
Frameless Shower Doors
Smoked Glass
Beveled Glass
Colored Glass
Etched Glass
Shower Door Repair
We don't just do custom work. If you've got a shower with broken or cracked glass, we provide full shower door repair. If you like your existing door we can match it. If you've been thinking about changing styles, now is the perfect time. With so many choices, get the shower doors you've always wanted. Sometimes repairs are not possible due to frame damage or other factors. In these instances we can perform a full shower door replacement.
We pride ourselves on providing you with the highest quality from creation to installation. When you want window replacement or shower doors in La Quinta call (760) 574-3487 or Contact Us for the custom shower door services that meet your needs and exceed expectations.
---
La Quinta
La Quinta is a beautiful little city in the heart of Riverside County. With so much to offer residents and visitors, it's become a resort destination for many. The La Quinta Museum is a great place to learn about the area and even catch a show from a local band. With great local amenities and world class facilities, La Quinta is more than just a vacation destination.