Shower Doors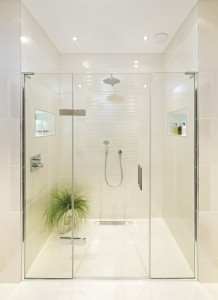 Customizing your bathroom can transform the way you view it. It can change the feeling of the room, how you use it, and what you use it for. We offer some of the most affordable options for customizing your shower doors in Palm Springs. At Macklin Mirror & Glass all of our glass work is made to order. You get perfect fabrication, excellent service, and even installation from one place.
We value your needs. That's why our fabricators and designers love to work with our customers. Whether you're creating a new style or instilling new life into an existing design, we can help. That's because we utilize a wide range of glass types, widths, colors, and textures so your door is truly custom created for you.
Custom Shower Doors
Whether you need a commercial grade shower door or are remodeling your home bathroom we can meet your needs head on. Our company specializes in fabricating shower doors in any style. That includes slider doors, round doors, pivoting doors, and more. Our focus isn't limited, though. We also design fully glass showers and tub enclosures. Our technicians can install them for you, guaranteeing quality from start to finish.
Door styles include:
Custom Tub Surrounds
Frameless Shower Doors
Smoked Glass
Beveled Glass
Colored Glass
Etched Glass
Shower Door Repair
Our shower door and window replacement services don't end at customized work. If your shower has broken or cracked glass, we provide complete repairs. Our shop can match your current door, but that's not your only choice. If you've ever desired a style change, a broken door is an excellent opportunity to do it. Sometimes frame damage can prohibit repairs, in these cases we can replace the entire door and frame.
Contact us for your shower door!
We take pride in our workmanship. When it comes to high-quality shower doors there's nowhere in Palm Springs that works harder for you. From creation to installation, when you want form, function, and affordability in one place call or contact us today.